Nasir rose, picking up his bowl as he did then walked over to the water bag to rinse it out.

Tuck looked at John and laughed... "Who was it that told me to make sure there was some left for Robin and Marion?". John joined Tuck's laughter as he handed his bowl to the monk.

The Saracen turned as he heard a sound in the trees just outside camp... then looked to the shelter, mentally chastising himself for being unarmed... he looked to the group... wondering if they had heard it... how could he let them know if they hadn't... he had to see who it was... weapon or not... he let the bowl drop, and was about to slip into the trees when Robin and Marion stepped into view. Nasir stopped, watching as the two approached the others... something was different about them, but he wasn't sure what it was.

They both joined the rest of the group around the camp fire. "Didn't you leave any for us?" Robin asked while looking in the now empty cooking pot. "We are starving."

As they joined the group the Saracen walked back to the shelter and retrieved his sword harness, before finding a spot just outside it to sit. He slid one of the blades from it's sheath, and after wetting his sharpening stone, began to work the blade as he listened to them.

Marion lowered her reddened face, feeling as if she could never look any of the others directly in their eyes again.

"Welcome back... I thought I'd made enough for everyone," Tuck looked at John again and smiled. "Let me see what else I can put together." John lowered his head pretending to be ashamed. "I was hungry - and this was one of Tuck's more edible stews... ."

"Where have you been ?" Much asked eagerly. "Collecting fire wood," Marion said curtly. Quickly realizing that they hadn't done any collecting, and it was rather noticeable since neither one of them brought any wood back in to camp.

"Take some bread to hold you for now... ." The Friar rose and walked over to the shelter... giving Nasir a smile as he passed him... then went inside and rummaged through their provisions... he stepped back out with several things cradled in his arms as John spoke. "I'll remember that the next time you are hungry." As he rejoined the group at the fire he handed Robin some cheese and a chunk of dried deermeat.

Robin tore into the food devouring it along with most of a skin of water. It was the first meal he had had in days.

"We've got a fresh deer to clean tonight thanks to Will and Much."

"C'mon Tuck, you're supposed to feed the hungry - our Lord says to ... " John laughed and took a piece of bread from Tuck's arm.

"Share some of that with Marion, Robin."

Marion, on the other hand, slowly nibbled away at some of the bread, still feeling lost in her embarrassment.

Tuck smiled at her as he handed her one of the apples he held. "They forget about manners sometimes I think."

"I shot the deer with one arrow only, Robin !" Much again tried to get some attention.

Looking up from her apple, Marion noticed that there was someone missing. "Where's Will?" At that, Robin stopped eating and looked up to see what the sudden silence was from the rest of the men.

Nasir was still not sure how they all fit together... the young one was the leader, of that he was sure... but why did the rest follow him? What hold did he have on them? He paused... bringing his gaze to them again.

Will was watching Nasir's every move from the tree he'd climbed just outside the clearing. He almost fell of the tree as he leaned forward to watch what the Saracen was about to do ...

John looked down at the bread in his hand... "Will needed a walk," he finally said.

Robin turned and looked at each of them in turn. Seeing the wound on Nasir's neck he asked "Tuck, what happened here?"

Tuck settled himself against a log as he listened to them... his stomach was full... the fire was warm... he lay his arms across his fat belly, and it wasn't long before he was asleep... Tuck opened his eye as he heard Robin. "What?"

"Tell me what happened here when we were away," Robin repeated himself, this time with the authority and wisdom he seemed to possess as Herne's Son.

As he spoke Nasir looked up... again caught by the fact that there was something different about the young man... he was older than his years, or so it seemed, but there was more to him then that... he just couldn't quite put his finger on what it was.

"It was nothing... a contest of sorts... Will got a little carried away... but it's done now." Tuck tried to explain.

Much ducked his head... there was something in Robin's voice... a new quality and he wasn't sure if he liked it.

Tuck looked over to where the Saracen sat. "Isn't that right, Nasir?"

Robin looked over to Nasir, waiting for some sort of response from the foreigner.

Nasir nodded... he had no quarrel with the man, the fight had been fair, then as if to show he was not concerned he returned to sharpening his blade.

John nodded in affirmation. "Aye... it's been a hard day for all of us. Will knew Dickon and Tom longer than any of us... he will come back."

Tuck watched Robin for a moment more to see if he had anything else ...

"All right then, but there will be no more blood shed between us, we must fight together against inequality, not against one another," and on that note Robin felt he had made his point. He turned to look once again at the wondrous creature sitting next to him, who had given everything up to be with him. He didn't think that he could ever tire of her beauty.

Tuck looked at Robin and nodded... then to Marion... he had known her for years... but she suddenly seemed like a stranger... something had changed in her. He eyed them both... then realization hit... smiling he folded his hands on his belly again and once more closed his eyes.

Will got tired of sitting in the tree... since he would be no longer in the center of the group's attention, he decided to return. He climbed down the tree.

Marion looked up into her husband's haunting eyes. She felt alive, for the first time in her life, she felt truly alive, and he was the one that had set her free from the cage that was once her life.

Nasir glanced at the sky... it was getting late... he rose and sheathed the blade... then set the harness just inside the shelter before going to the water and washing.

She feared that this was a dream, and that at any moment she would awake and find herself locked within the stone walls at Kirklees. She reached for her husband's hand,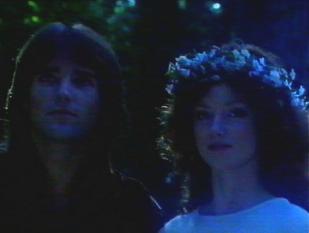 and gave it a squeeze, there was no one else there but the two of them... the rest of the group noticed how the two seemed to be lost in each other's gaze.
When he had finished, Nasir took one last look to where the group sat, then slipped into the trees.
Much saw Nasir heading for the edge of the clearing and tugged John's sleeve. "Where's he goin'?" he muttered.
"Hm?" John turned his head following Much's look.
It wasn't hard to find the spot he had used earlier... and when Nasir reached it he took the beginning position for his prayers.
Tuck snored softly as sleep claimed him... it had been a long day.
Marion tried to hold back a yawn. At this, Robin realized that he too was exhausted, and no one had had any decent rest in the past few days.
Nasir easily lost himself in the rhythms of the verses... letting the words sweep over him... it had been so long since he had openly practiced his faith and he had almost forgotten how it felt to him.
Robin went looking through items being stored in the lean to, trying to find something to use for bedding for himself and his new bride.
Will entered the clearing, immediately noticing who was missing and his anger rising to a dangerous level again ...
"Welcome back Will, where have you been?" Robin asked.
"I've been... there," Will said angrily and pointed with his hand roughly over his shoulder to where he just came from.
Nasir knelt... laying his forehead to the ground. "Subhana rubbiyal a'ala." He repeated the passage three times then rose to his knees resting his hands on his thighs. "Rabbi eghfir lee wa rhamnee"...
Much stood, stretching his legs. Since Tuck had fallen asleep and the others were busy with themselves, he decided it was time for him to have some sleep as well. He went over to the lean-to.
It was completely dark as Nasir lay his forehead to the ground one last time. "Subhana rubbiyal a'ala" He repeated the verse three times then stood again, his senses alert for any sounds as he made his way back to the camp.
Marion continued to lay out the sparse bedding that Robin had handed her, as he approached Will.