What happens if two genius minds join together and allow their fantasy to unfold unhindered? However, nothing too bad ...

When we first saw "Lord of the Trees" we couldn't help wondering about the two women who approached Nasir... who they were... how they met... what their relationship was with him. The result has been, and still is these scenes. Originally they were begun on a "loosely" based Robin of Sherwood rpg (role-playing game list) of which we no longer have any connection. It is our intention to continue developing the thread and the results will appear here on a regular basis.
He is ... Nasir, the silent Saracen who joined Robin in return for being freed from the evil Baron de Belleme's spell.
The protagonists are: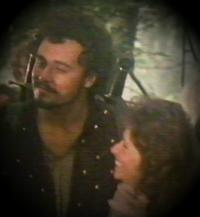 .... and of course: the rest of Robin's gang of outlaws and opponents as known from the TV series "Robin of Sherwood".
She is ... Deirdre, the older of the two women and an inhabitant of Wickham, the village on the outskirts of Sherwood under the protection of Robin and his friends.